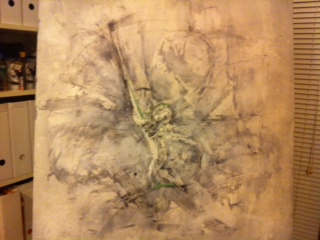 I've fin­ished two 36 x 36 pieces that are acrylic and mixed media.  Our last class cov­ered using indus­trial glue, char­coal pow­der, graphite, and acrylics.
Over a bot­tle of wine we worked new tech­niques and exper­i­men­ta­tions that have proven to work out well in my opin­ion.      I men­tioned to Gas­ton, that the piece / project  we worked on before I had fallen in love with the night I pro­duced it.   The next day how­ever I didnt feel as intensely about it.   Was it beer gog­gles?  Possibly.
Gaston's response was that he had this feel­ing many times before.   Next he mentioned:  
you have to respect the piece as it is a process that builds
.
Com­po­si­tion and bal­ance are key ele­ments to keep in minds in the near future