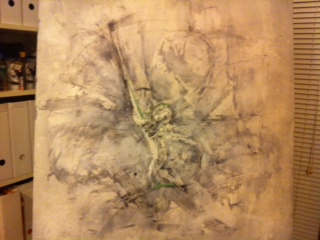 I've finished two 36 x 36 pieces that are acrylic and mixed media.  Our last class covered using industrial glue, charcoal powder, graphite, and acrylics.
Over a bottle of wine we worked new techniques and experimentations that have proven to work out well in my opinion.      I mentioned to Gaston, that the piece / project  we worked on before I had fallen in love with the night I produced it.   The next day however I didnt feel as intensely about it.   Was it beer goggles?  Possibly.
Gaston's response was that he had this feeling many times before.   Next he mentioned:  
you have to respect the piece as it is a process that builds
.
Composition and balance are key elements to keep in minds in the near future