I often have to set up blogs or use Word Press as a CMS .  I have some preferential settings I like to use.   One of them is to have the buttons for text editing available like using BOLD Underlined Text or Italicizing text.
I started writing these tutorials so that I would have a quick reference to re-setting up a blog and configuring a new one for WordPress. WordPress is a great platform but little items like this can make it a bit frustrating to use at times. There should probably be a more user friendly way of ticking this setting on but no such luck. My research has turned this up: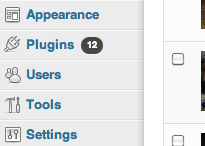 There is a setting under users on the WordPress Control panel.   For version 2.9  it says:   Your Profile
I clicked it.  On the page a check box at the top by default  was ticked  that said  disable the rich text editor.    So I unchecked it and now all of the icons for rich text editing have reappeared.  

I spent way too much time looking for this setting.   I wont have to go far if I forget it the future.